Hello crafty friends and the loved ones of my crafty friends! Today I am sharing a gift guide for a cardmaker or stamper. I see a lot of gift guides that recommend specific stamps or dies. I think these guides can be very helpful and inspirational, but I recognize that some of you are shopping for someone and you don\'t know what they already have, but you want to give them a gift or at least something to go with the gift card you bought them. This guide is full of small items that most cardmakers and stampers would enjoy. Check out the video for a verbal explanation or keep scrolling if you prefer a visual guide.
[youtube https://www.youtube.com/watch?v=24zXBBoRN14]
For most of the items you need to know nothing about what they already have. For a few items you need a bit of knowledge of their crafty habits. I\'m including a mix of items you can get from micro-businesses on Etsy, small craft companies, and big sellers like Amazon (in case it\'s 3 days before Christmas or whatever celebration when you find this)
This post is not sponsored but affiliate links are used when possible and I may earn a small commission at no cost to you.
Gift Card
So this is probably obvious. You don\'t need to know what they have, but it\'s probably good to know what their favorite online store is. Here\'s a few that have a great selection so they are sure to find something they like. Scrapbook.com can even email you the gift card if you don\'t have time for shipping.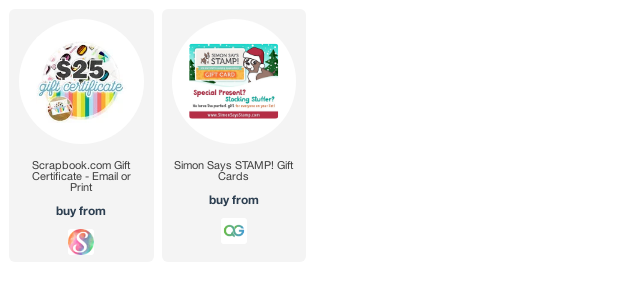 The card maker in your life probably sends (or means to send) all those cards they make. So give them some mailing supplies to do just that. Some pretty envelopes, a book of beautiful postage stamps, and maybe a fancy pen (though they probably have a quite a few of those).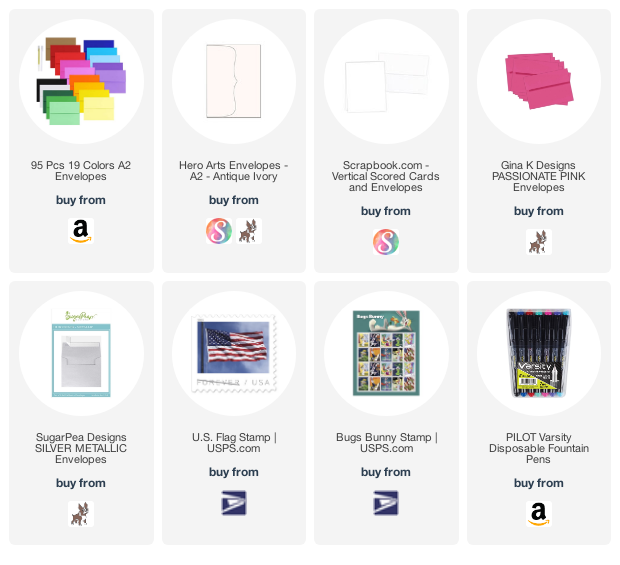 Consumable Supplies
Every cardmaker has supplies that they use up on a regular basis. Here are some ideas of things they may be running low on or can use up in the future.
The one that comes to mind first is adhesive. They probably use up glue and tape regularly and so a refill makes a nice stocking stuffer. They may have a preferred glue or tape and feel free to give a quick snoop or ask a leading question. But if you don\'t know what they like it\'s hard to go wrong with a bottle of liquid glue or some foam tape.  Cardmakers also use low tack tape to hold down pieces or protect parts of their project. Some painter\'s tape or Post-it Note tape will do the trick.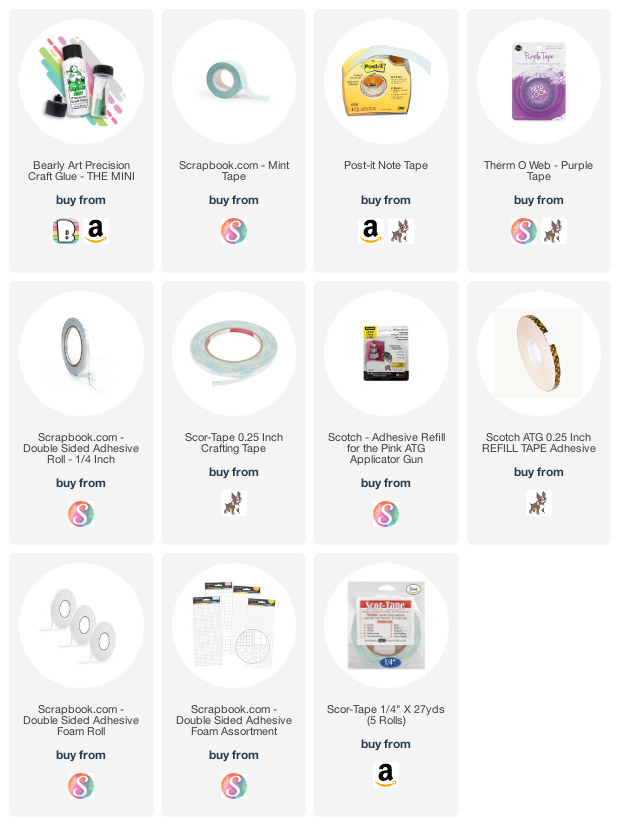 Mats for Die Cutting Machines: Your crafter probably has a machine in their room that helps them cut shapes and words and all kinds of cool stuff. That machine needs a mat or cutting plate. I will link you some common ones but you probably need to sneak in and look at the machine to make sure you\'ve got the right one.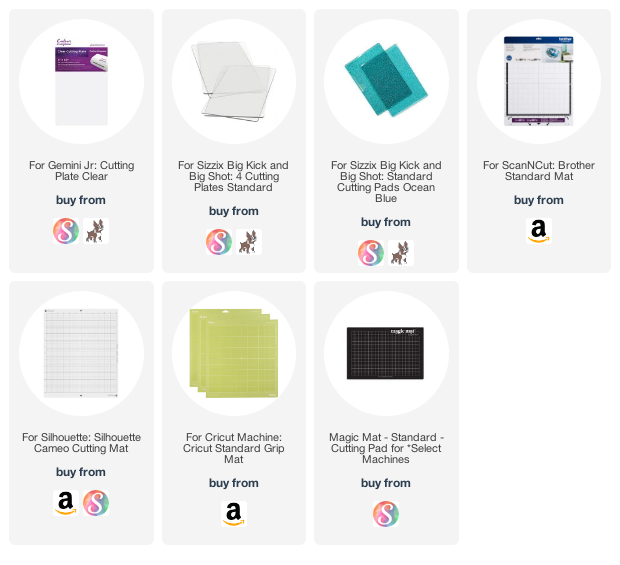 Cardstock: Your crafter probably has a favorite cardstock. They probably have a different favorite cardstock for different parts of crafting. But all cardmakers need card bases and this white cardstock I\'m going to link it nice and thick so it will be perfect for that and a bunch of other purposes. A multipack of high quality colored cardstock is probably a safe bet as well. 
Other supplies: White gel pens get used up or run dry, but are perfect for adding snow to winter cards. Simon Says Stamp sells some preprinted sentiments that make for quick cardmaking. You may not know what stamps they already have, but since these get used up, it\'s ok if you buy a duplicate.
Support Small Business
I know many people are looking for ways to support small businesses in particular. A lot of craft companies I am linking to are small businesses, but I\'m going to take a moment to highlight some super small Etsy shops that I have shopped with and loved. You may need to know if your crafter already has these, but a quick scan of their workspace should tell you.
Brush Holder: If your crafter uses brushes to apply ink (or makeup) they might find it really helpful to have those brushes easily accessible and color coded on their desk. Make It by Marko on Etsy sellers brush stands and \"Brush Buddies\" that will keep them blending with ease.
Embellishment Tray: Have you ever seen a pile of sequins scattered across your crafter\'s workspace? Help them wrangle sequins, gems, or whatever tiny things they keep gluing on cards with an embellishment tray. Twiddler\'s Nook on Etsy sells these small trays that make it easy to contain all those little bits and pour them back into the bag. Feel free to pick up some little embellishments as well. These are consumable so it\'s ok if you get a repeat.
Magnetic Die Storage: This is another convenient product from Twiddler\'s Nook. I keep a magnetic die holder on my desk with my favorite dies so they are close at hand. Crafters can also use it to hold dies so they don\'t get lost while working their creative magic or to sweep the desk for any stray dies at the end of a crafting session.
Wooden Word \"Watermark\": This one is fairly unique and not necessarily for everyone but if your crafter likes to post their work on Instagram, or wherever all the cool kids post these days, this is a fun gift. You might want to get their handle (ie Instagram name) or just their given name made from wood at GoodLeeDesigns on Etsy. They can take a photo of their project with the wooden name so that they always get credit and look super stylish while doing it.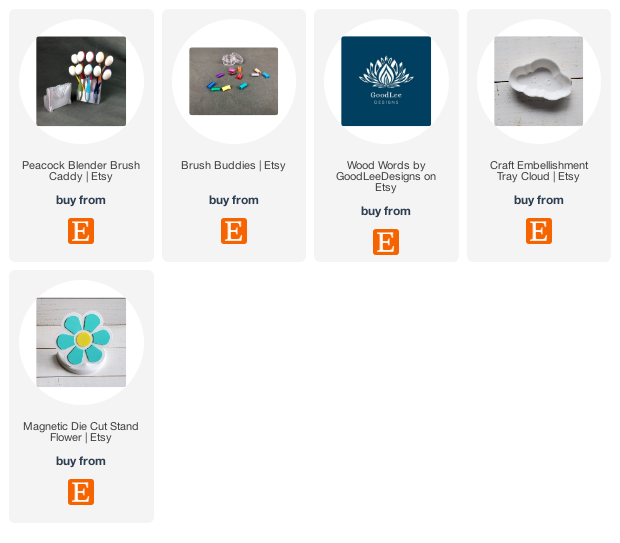 Just for Fun
Does your crafting have lots of pencils, pens, markers they carry around for their work or spread all over their desk? This bag gets all those mark making instruments gathered and then stands them up for easy access or zips them up for easy transport. Even if your crafter already has one of these bags they can probably find a use for another one. (We have a LOT of writing markers, pens, and pencils!) This one could also go in the small business support but I\'m going to link to an Amazon offering as well so we\'ll put it down here.
Small, Pretty Bowls: Most crafters have little things all over their workspace when they\'re getting artsy. So having some small pretty bowls to collect the trash, small pieces, etc can be really helpful. 
Treat Stash: Does your crafter have a secret or not so secret stash of treats in their workspace? They should because crafting takes energy.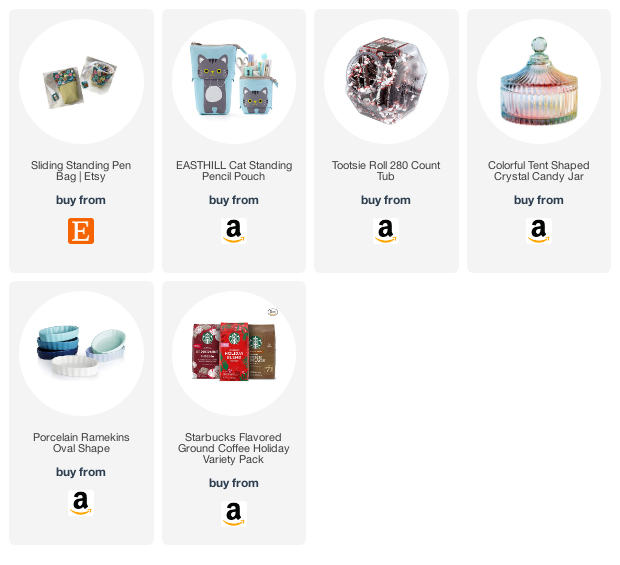 I hope you enjoyed this list and feel like you have an idea or two of something that would be a perfect gift or the perfect accompaniment to a gift card for the cardmaker, papercrafter, or stamper in your life. Happy Holidays!